Islam Prayer Beads Tesbih Wild Goat horn 99 Beads Prime Collecto'rs Top Carving


Condition: New
Price:&nbsp

$1,350.00
---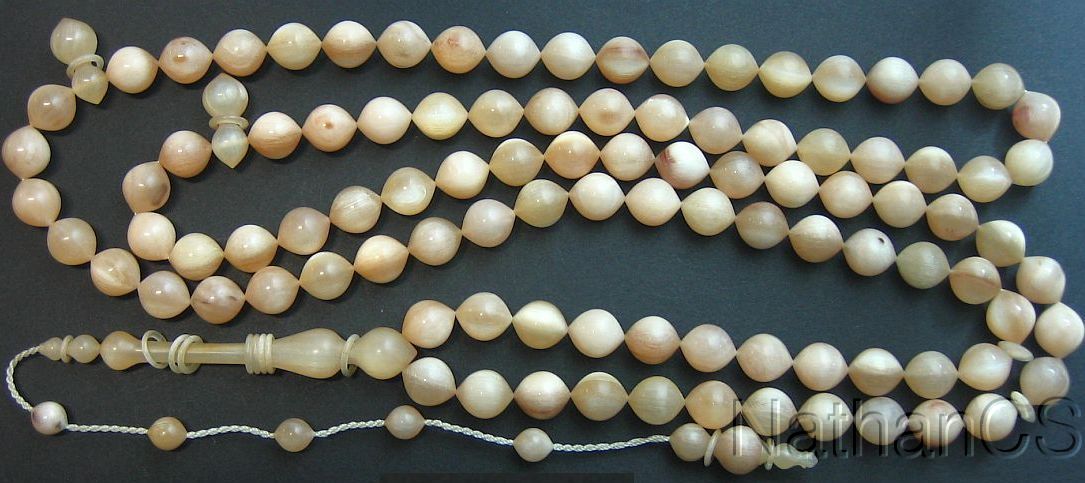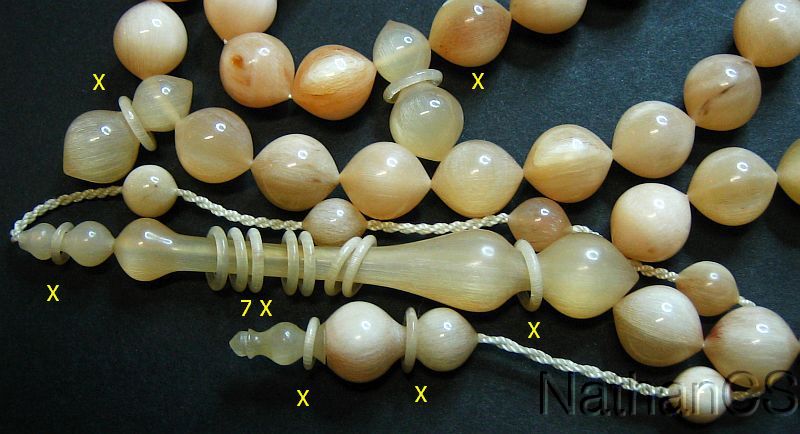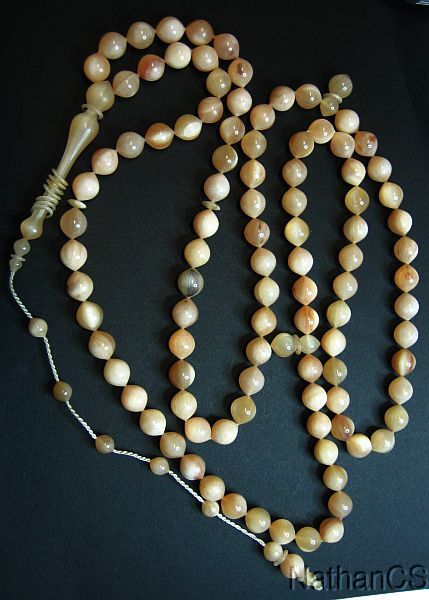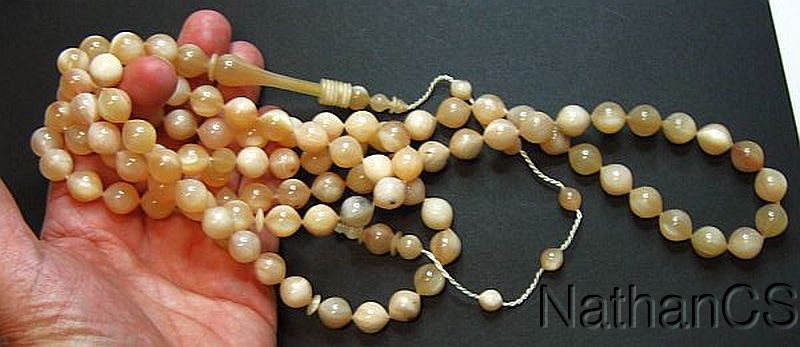 Description:
Special from Tesbihci : a magnificient Islamic 99 bead prayer bead strand - Tesbih - Masbaha made of rare mountain goat horn.
You are presented here with an truly unique and very exceptional Prayer Bead Strand which is entirely hand carved by a master Bead carver in the traditional Ottoman style.
Close up of the pictures show the beautiful shape of the beads, which are of typical old ottoman carving.

This is one of such items, which is a true rarity due to its size, the nature of its material and the impeccable work. This is an awesome heiloom

Description :
Material : Mountain Goat Horn - Bezoar Ibex
Tassel : Of same beads - very rare and elegant
General : 99 Beads of typical Ottoman shape called TOMBUL BEYZI - meaning FAT OVAL .

Size of beads : 13.5 x 11 mm dia.
Mian bead - imame - is 75 mm
Total 13 Captive rings !!!!


Total length : 96 cm !!!! LARGE ITEM



VERY EXCEPTIONAL BEAD SIZE - RARE TO FIND - THIS IS A UNIQUE MASTERPIECE AND A PRIME COLLECTOR'S ITEM OF THE KIND TO PASS ON TO FUTURE GENERATIONS. HIGH RARITY!!!!

These beads will acquire a beautiful dark patina with age and use and will become even more attractive
NO RESERVE - Low starting price for a VERY RARE item !!!

This is a magnificient item that you will greatly enjoy or that would make a fantastic gift.

My selling principle is : " SATISFACTION OR REFUND " AND IT APPLIES 100 %.
I am ready to refund in totality any item sold by me if you are not fully satisfied with your purchase
NO QUESTIONS ASKED - NO CONDITIONS

BID WITH COMPLETE CONFIDENCE
---
Return Policy:
Items must be returned within 14 days .
Refund will be given as Money back.
Refund policy details:
DETAILS ARE SPECIFIED IN THE LISTING. REFUND AT BUYER'S DISCRETION : REFUND, EXCHANGE OR MERCHANDISE CREDIT.
Shipping:

Destination: Switzerland

STANDARD
Standard
$0.00
$0.00

Destination: Worldwide

STANDARD
Standard
$0.00
$0.00

Handling:
$0.00(Domestic)
$0.00(International)
Insurance:
Not Offered (Domestic)