ANGLICAN EPISCOPAL ROSARY EBONY & TROCA INLAID W PAUA + STERLING -- RRR
Price:&nbsp
$149.99
---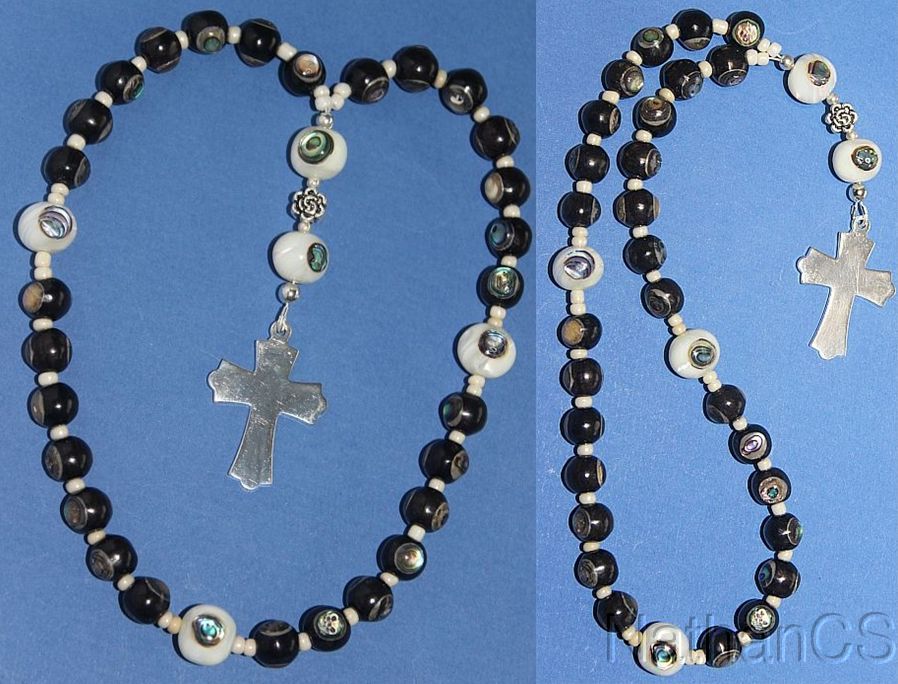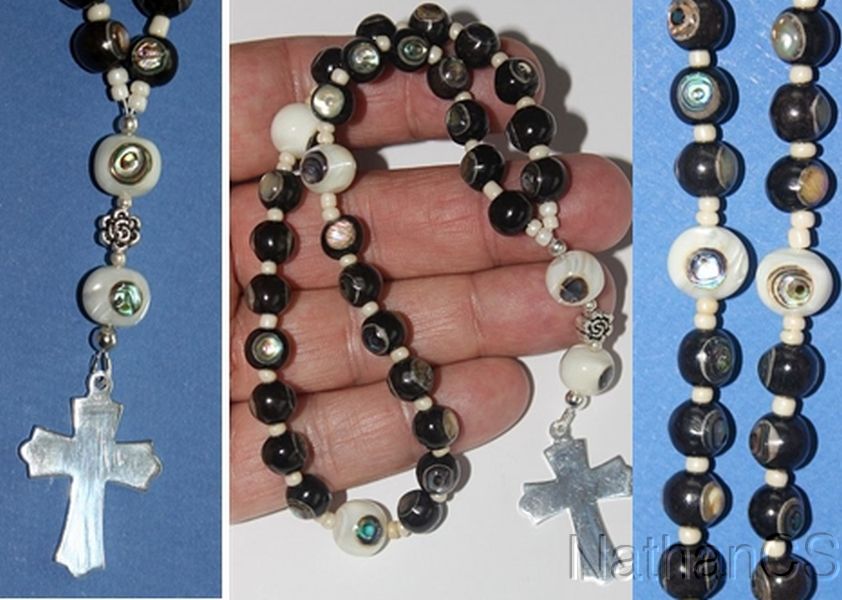 Description:
ENTIRELY HAND MADE WITH GEM STONES AND PRECIOUS METALS, UNIQUE ROSARIES TO CHERISH AND OFFER.
All my Anglican Rosaries are hand made using only precious or semi precious stones as well as precious metals. They are unique and a real pleasure to handle. made using the strongest materials and will last for long years.
The item in this listing has the following characteristics:
8 mm Ebony wood beads inlaid with Paua shell for the weeks
10 mm Troca shell beads also inlaid with Paua shell for the invitatory and cruciform beads.
Pearly vintage seed beads for spacers.
STERLING SILVER cross : 32 X 22 mm
Total length : 23 cm
Total weight : 23 grams

These are rarely seen beads - made especially for me on request in the Philippine Islands - Ebony wood and Troca shell bead one by one hand inlaid with magnificient Paua shell -- SEEN NOWHERE ELSE.

NO RESERVE - Low price for a VERY RARE item !!!
This is a magnificient item that you will greatly enjoy or that would make a fantastic gift.
My selling principle is : " SATISFACTION OR REFUND " AND IT APPLIES 100 %.
I am ready to refund in totality any item sold by me if you are not fully satisfied with your purchase
NO QUESTIONS ASKED - NO CONDITIONS
BID WITH COMPLETE CONFIDENCE
---
Return Policy:
Items must be returned within 14 days .
Refund will be given as Money back.
Refund policy details:
DETAILS ARE SPECIFIED IN THE LISTING. REFUND AT BUYER'S DISCRETION : REFUND, EXCHANGE OR MERCHANDISE CREDIT.
Shipping:

Destination: Switzerland

STANDARD
Standard
$0.00
$0.00

Destination: Worldwide

STANDARD
Standard
$0.00
$0.00

Handling:
$0.00(Domestic)
$0.00(International)
Insurance:
Not Offered (Domestic)