2way Wearable Beaded Chotki Komboskini Jasper, Lapis & Enameled Vintage Cross
Price:&nbsp
$270.00
---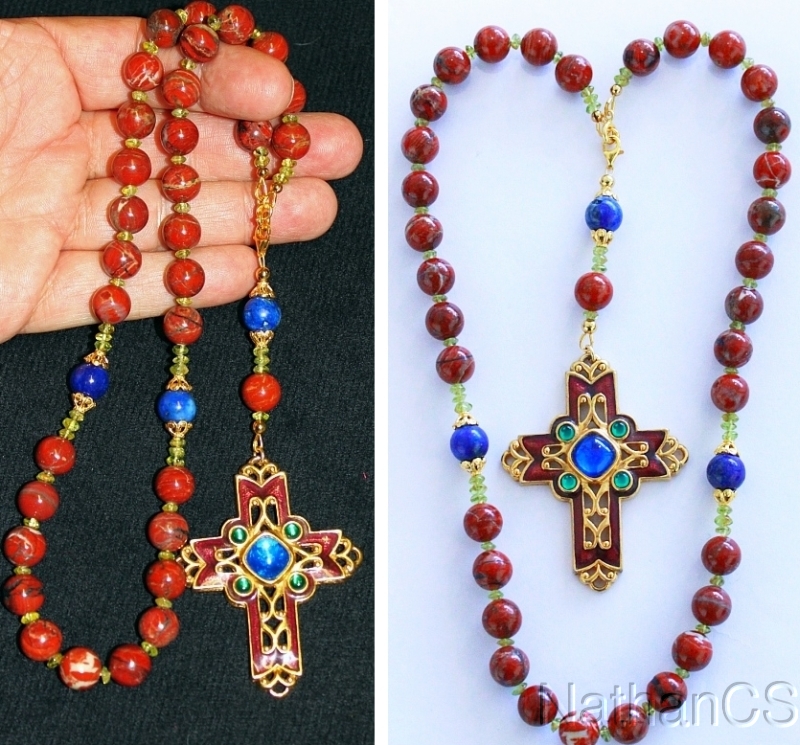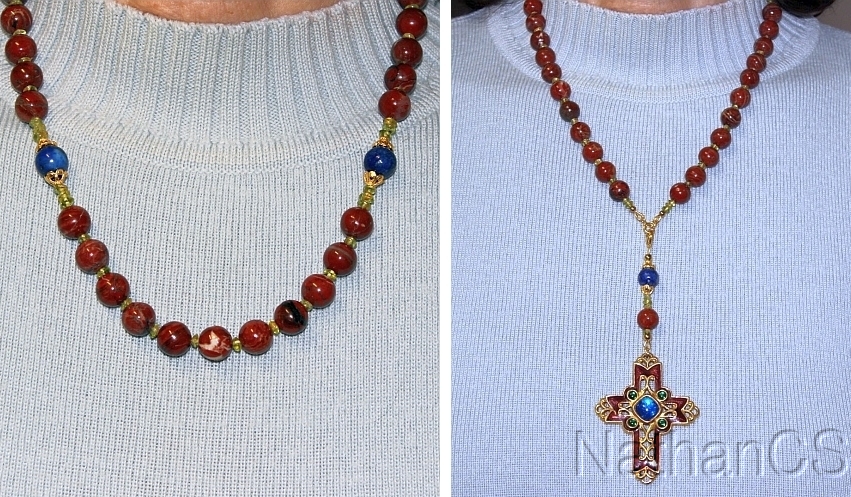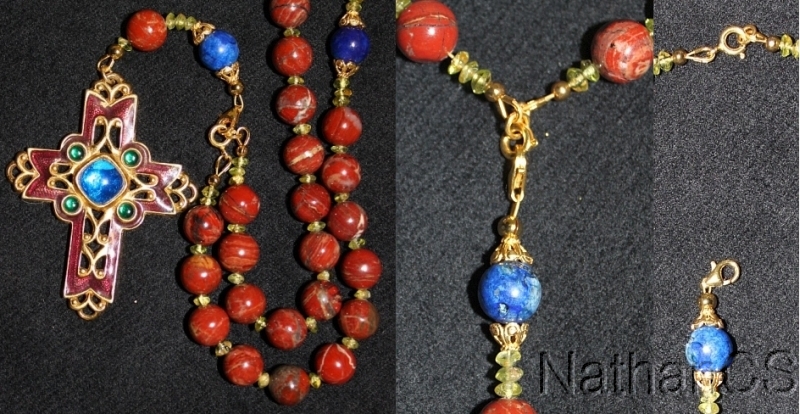 Description:
ENTIRELY HAND MADE WITH GEM STONES AND PRECIOUS METALS, UNIQUE ROSARIES TO CHERISH AND OFFER.
Inspired by the monastic knotted cord this is a totally new concept of the Greek and Russian Orthodox Chotki - Komboskini for you to use and admire.
This Item is also very special as its has been designed with an easily removable cross that allows it to be worn as a Ruby necklace as well as a necklace with a Cross pendant.
Watch the pictures carefully.

Only precious or semi precious stones as well as precious metals are used . It is unique and a real pleasure to handle. Made by using the strongest materials and will last for long years
The item in this listing has the following characteristics:
Beads are GENUINE JASPER, LAPIS AND PERIDOT
10 mm dia Round Orange/Brown Jasper beads of prime quality for the Jesus' Prayer - 33 beads
10 mm Round LAPIS beads for the main separators
All Spacers between the beads are genuine peridot.
Bead caps as well all metal parts are VERMEIL ( 24K gold electro guilded Sterling Silver)

UNIQUE VINTAGE DESIGN ENAMELED GUILDED CROSS : 63 X 48 mm.
Total length : 40 cm
Total weight :84 grams !!!!!!

THIS IS AN EXCEPTIONAL AND VERY IMPRESSIVE ITEM WITH AN AWESOME DESIGN THAT WILL FOCUS A LOTOF ATTENTION
PLEASE LOOK AT ALL PICTURES

NO RESERVE - Low starting price for a VERY RARE item !!!
This is a magnificient item that you will greatly enjoy or that would make a fantastic gift.
My selling principle is : " SATISFACTION OR REFUND " AND IT APPLIES 100 %.
I am ready to refund in totality any item sold by me if you are not fully satisfied with your purchase
NO QUESTIONS ASKED - NO CONDITIONS
BID WITH COMPLETE CONFIDENCE
---
Return Policy:
Items must be returned within 14 days .
Refund will be given as Money back.
Refund policy details:
DETAILS ARE SPECIFIED IN THE LISTING. REFUND AT BUYER'S DISCRETION : REFUND, EXCHANGE OR MERCHANDISE CREDIT.
Shipping:

Destination: Switzerland

STANDARD
Standard
$0.00
$0.00

Destination: Worldwide

STANDARD
Standard
$0.00
$0.00

Handling:
$0.00(Domestic)
$0.00(International)
Insurance:
Not Offered (Domestic)