1900's Coral & Gold filled Catholic Rosary in Sea Shell Box Attractive Charming
Price:&nbsp
$255.00
---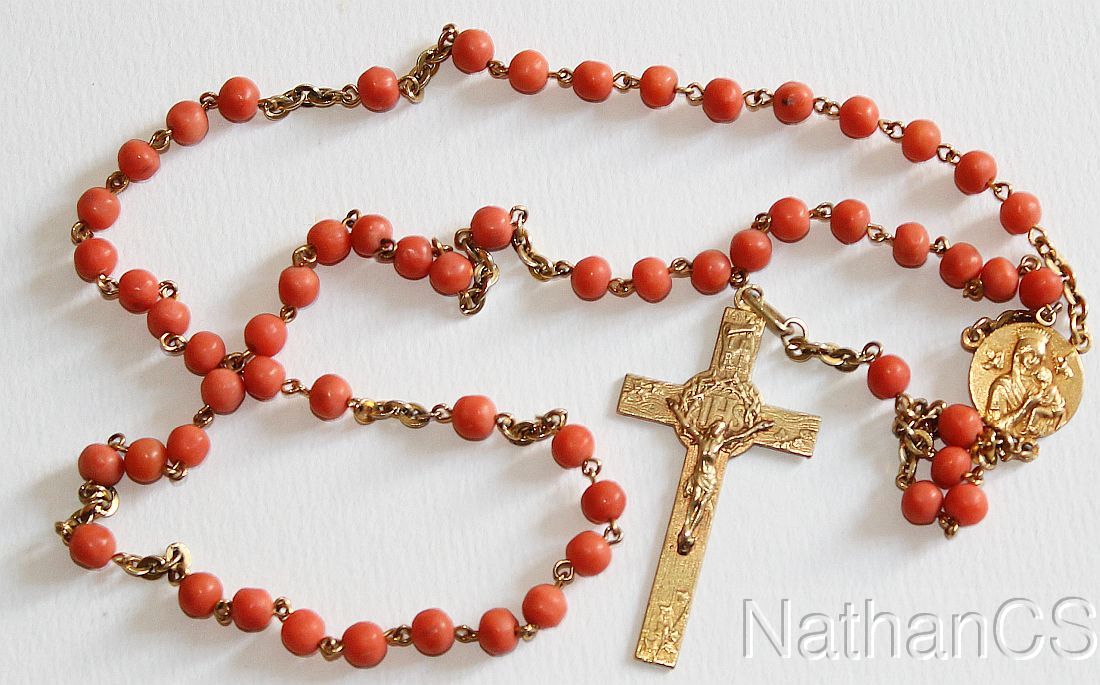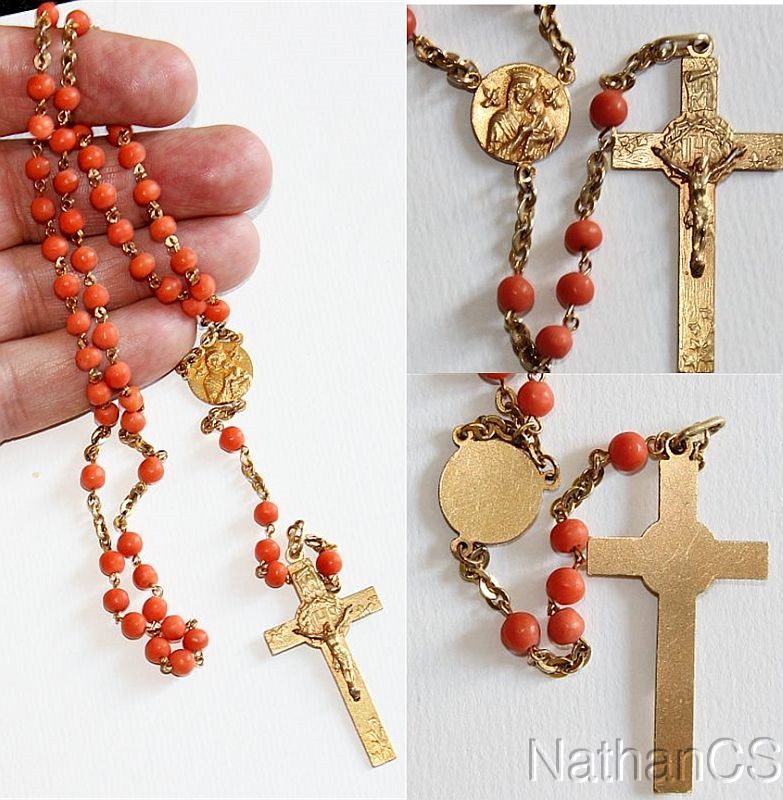 Description:
GENUINE ANTIQUES AND VINTAGES, COLLECTIBLE ROSARIES, IN PERFECT CONDITION, UNIQUE ITEMS TO CHERISH AND OFFER.
All Antique and Vintage Rosaries that I list come from my private collection. They are genuine antiques – older than 100 years – or genuine vintages – from 30 to 100 years old. All are in perfect condition and still very much usable. They are unique and a real pleasure to collect or still use.
The item in this listing has the following characteristics:
The rosary and its box made out of a sea shell are made in France in the early 1900's. It is very rare and in pristine condition.
1. 5 mm Vintage Salmon Pink Genuine Mediterranean Coral round hand cut beads for the Ave Marias as well as for the Paters.
2. All Metal Parts are high quality Gold Filled : chain, center and cross.
3. 1920's art nouveau cross 36 X 25 mm ( 1.45 x 1 in).
4. The rosary is sold with its box which is hand made using the two parts of a sea shell as is seen in the photos.
5. It was very fashionable in the first part of the 20th century to use shells made into rosary boxes. Very few have survived until today as the shells are fragile and breakable and these have became items that are in big demand.
6. Total length : 40 cm (16 in)
7. Total weight : 17 grams for the rosary alone.
In pristine condition, like new in spite of age.
All Pictures are an intrinsic part of the description.
==== FREE SHIPPING WORLDWIDE ====
This is a magnificent item that you will greatly enjoy or that would make a fantastic gift.
My selling principle is : " SATISFACTION OR REFUND " AND IT APPLIES 100 %. I am ready to refund in totality any item sold by me if you are not fully satisfied with your purchase
NO QUESTIONS ASKED - NO CONDITIONS

BUY WITH COMPLETE CONFIDENCE
---
Return Policy:
Items must be returned within 14 days .
Refund will be given as Money back.
Refund policy details:
DETAILS ARE SPECIFIED IN THE LISTING. REFUND AT BUYER'S DISCRETION : REFUND, EXCHANGE OR MERCHANDISE CREDIT.
Shipping:

Destination: Switzerland

STANDARD
Standard
$0.00
$0.00

Destination: Worldwide

STANDARD
Standard
$0.00
$0.00

Handling:
$0.00(Domestic)
$0.00(International)
Insurance:
Not Offered (Domestic)