Biedermeier Bavarian Lapis Filigree Rosary w. Credo & Enameled Porcelain Cross


Condition: Used - Very Good
Price:&nbsp

$395.00
---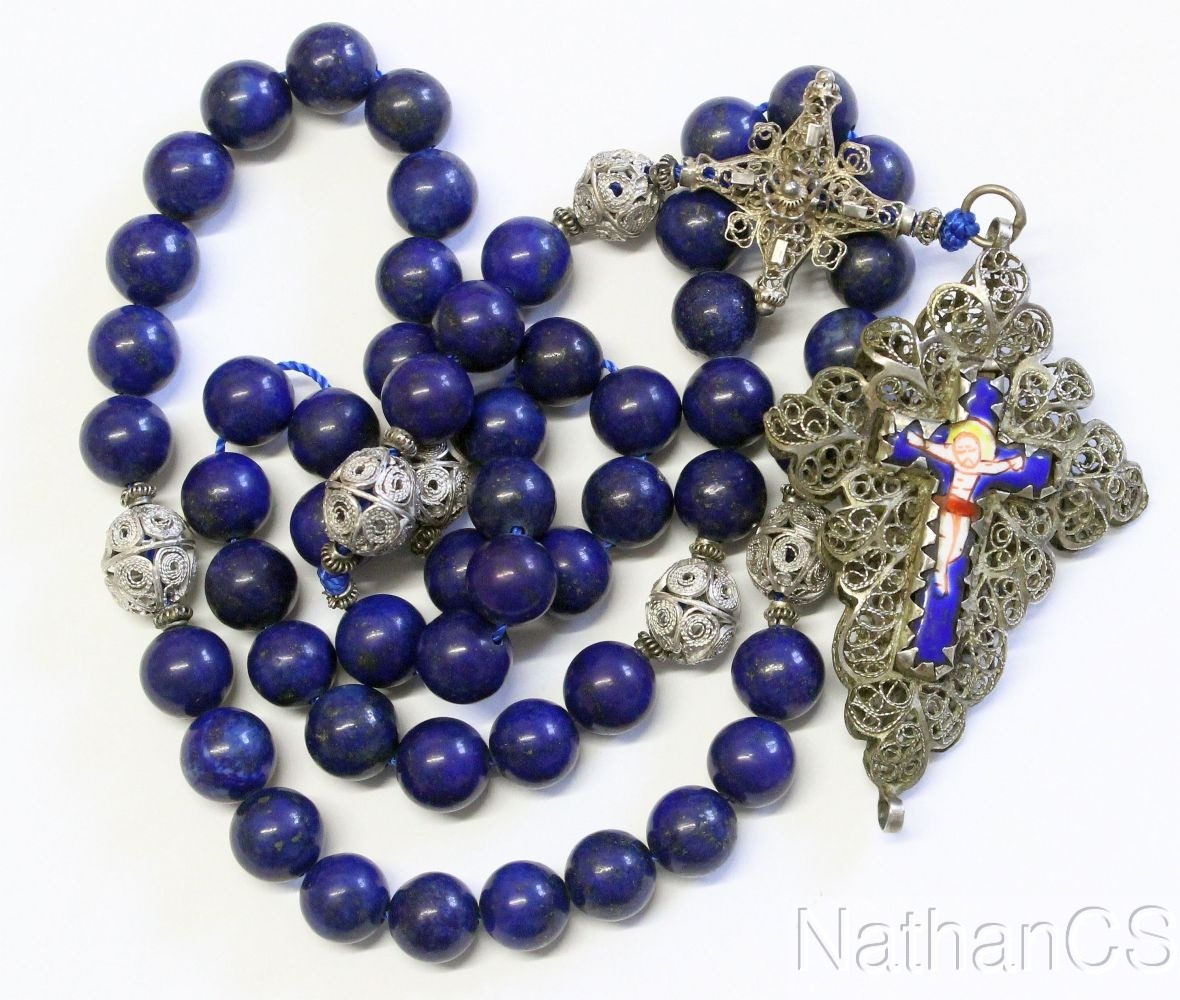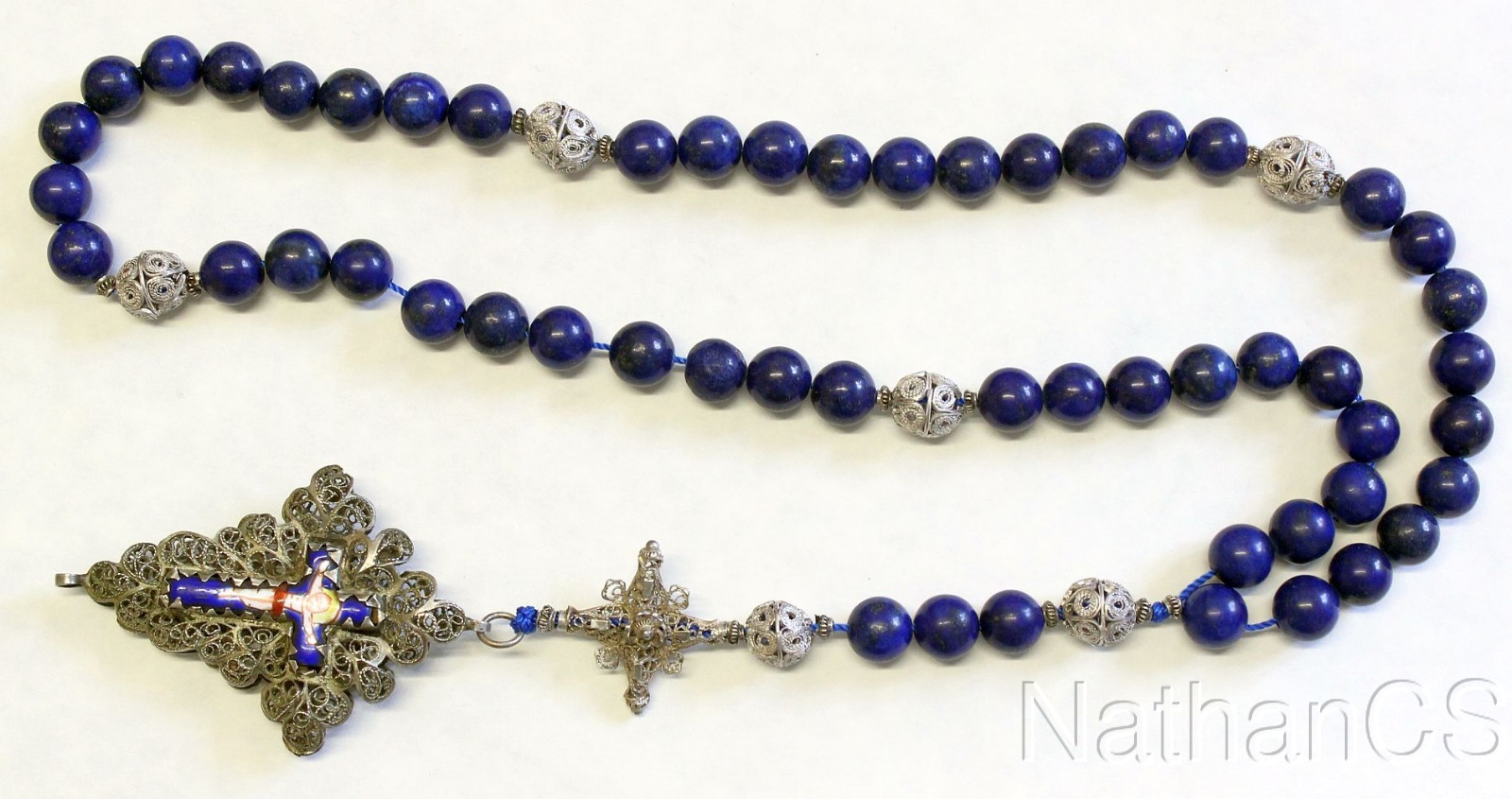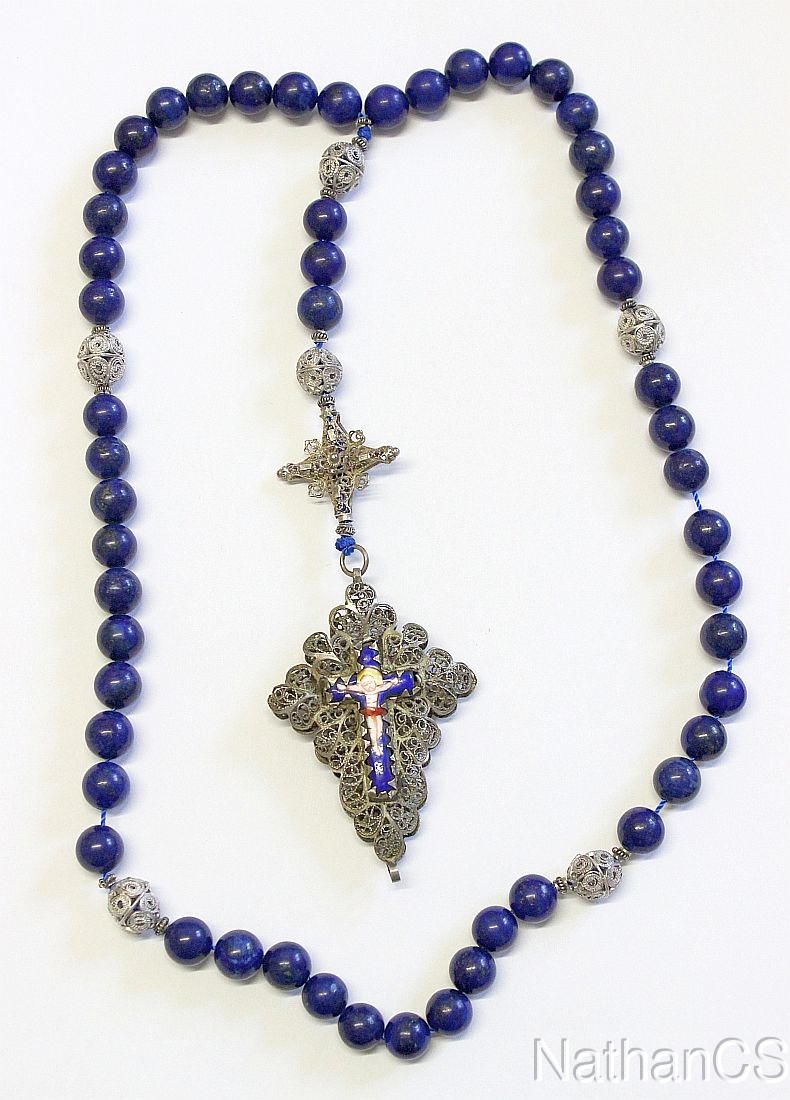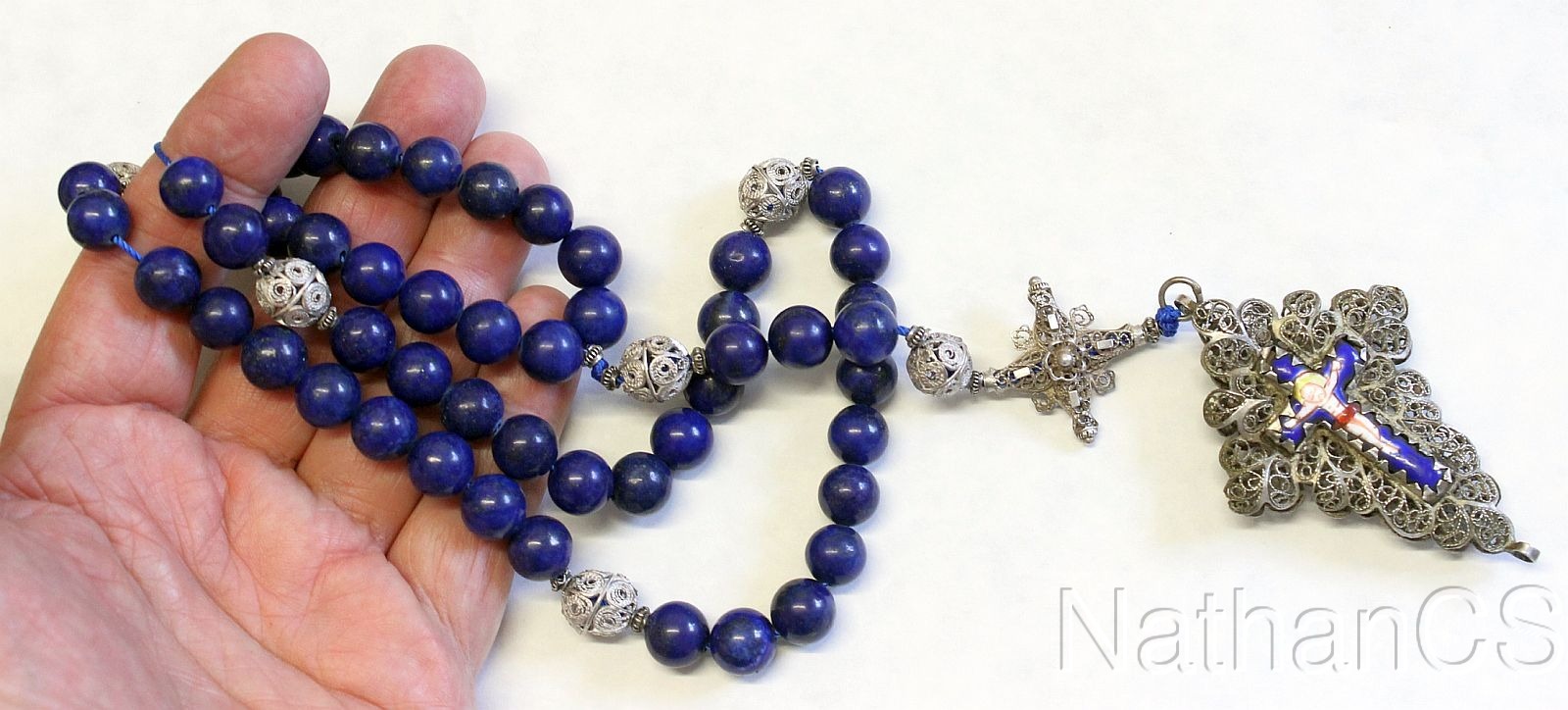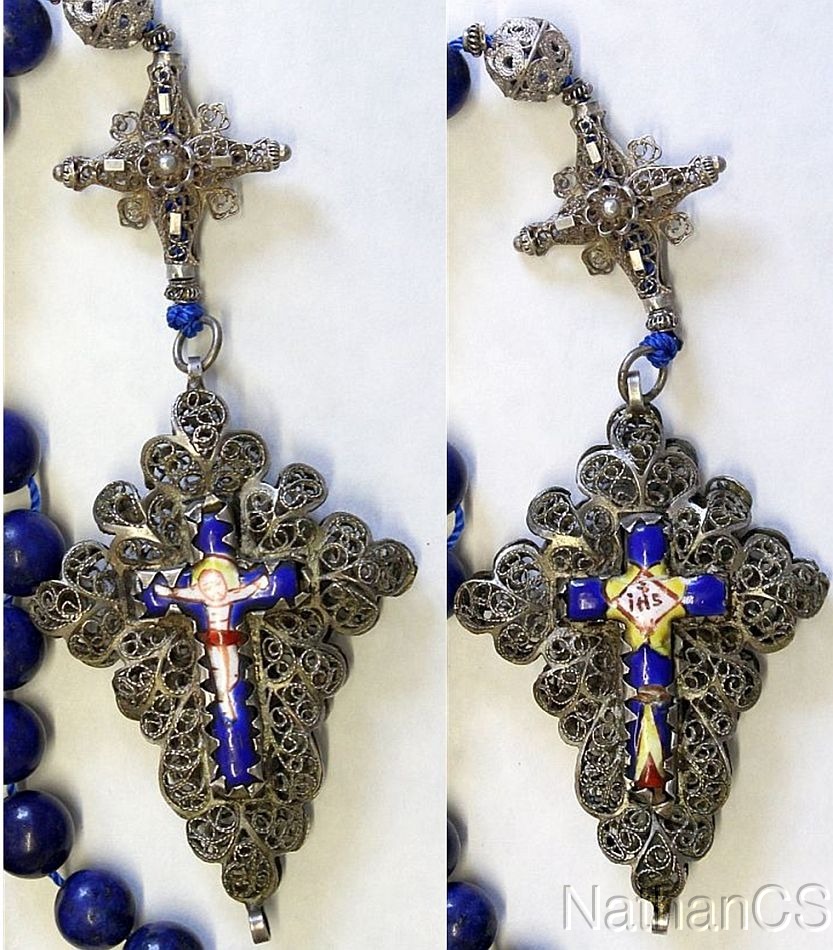 Description:
GENUINE ANTIQUES AND VINTAGES, COLLECTIBLE ROSARIES, IN PERFECT CONDITION, UNIQUE ITEMS TO CHERISH AND OFFER.
All Antique and Vintage Rosaries that I list come from my private collection. They are genuine antiques – older than 100 years – or genuine vintages – from 30 to 100 years old. All are in perfect condition and still very much usable. They are unique and a real pleasure to collect or still use.
The very rare and large item in this listing has the following characteristics:

This is a Bavarian Catholic 5 decade rosary dating from the early 19th century, Beidermeier period ( 1815-1850). It is made of Sterling filigree Silver and natural Lapis Lazuli Beads.

1. 10 mm average dia. Lapis round beads for the Ave Marias with an awesome color and beautiful shine.

2. 12 x 11 mm dia. Filigree Silver Pater Beads typically Bavarian, with two small sterling beads on each side

3. STERLING SILVER Filigree Bavarian Reliquary cross 70 X 50 mm with Ceramic inserts on both sides. Please look at the picture closely.
The cross contains a sealed relic as most Bavarian early rosaries do.

4. Sterling filigree Credo Cross typical of the Bavarian Rosaries is 45 x 45 mm

5. Total length of the rosary is 48 cm (19.2 in.)

This rosary has been newly restrung as the previous cord ( original ?) was broken and the beads were apart.

This is a typical example of the Antique Bavarian Filigree silver Rosaries in 5 decades. It is a great and rare item, in pristine condition to own in a collection as well as use in every-day life.

It is exceptional as complete and in very nice condition, dating from the early 19th century - practically 200 years old.

All Pictures are an intrinsic part of the description. Please use the zoom function

Please do not hesitate to ask any question.

I remain at disposal for any further info about Bavarian Rosaries.
==== FREE SHIPPING WORLDWIDE ====
This is a magnificent item that you will greatly enjoy or that would make a fantastic gift.
My selling principle is : " SATISFACTION OR REFUND " AND IT APPLIES 100 %. I am ready to refund in totality any item sold by me if you are not fully satisfied with your purchase
NO QUESTIONS ASKED - NO CONDITIONS

BUY WITH COMPLETE CONFIDENCE
---
Return Policy:
Items must be returned within 14 days .
Refund will be given as Money back.
Refund policy details:
DETAILS ARE SPECIFIED IN THE LISTING. REFUND AT BUYER'S DISCRETION : REFUND, EXCHANGE OR MERCHANDISE CREDIT.
Shipping:

Destination: Switzerland

STANDARD
Standard
$0.00
$0.00

Destination: Worldwide

STANDARD
Standard
$0.00
$0.00

Handling:
$0.00(Domestic)
$0.00(International)
Insurance:
Not Offered (Domestic)